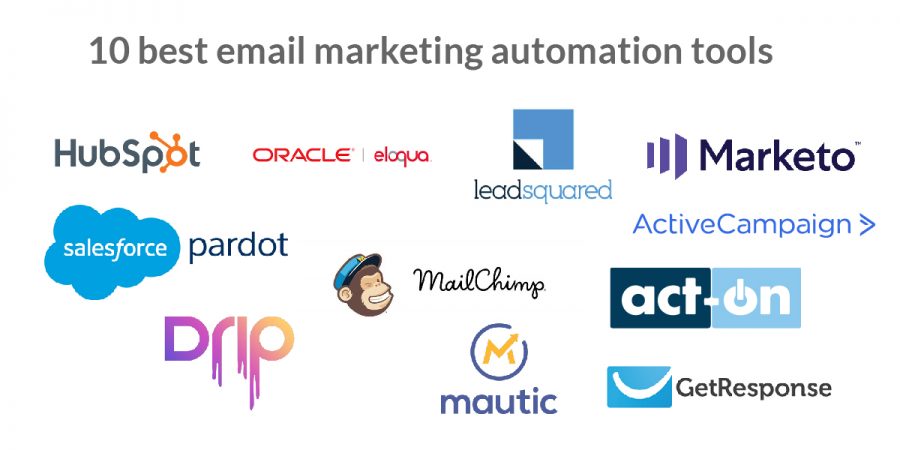 Email marketing automation involves designing and sending personalized emails to prospective customers on a time-bound basis. With email marketing automation, marketers can send customized emails that are triggered by certain specific actions of the customers. As per Epsilon Email Institute, triggered emails have a 70.5% higher open rate and a 152% higher click-through rate than generic email newsletters. Successful marketers use email automation tools and strategies to achieve maximum success and results. For your benefit, our marketing experts have compiled a list of the top 10 email marketing automation tools in the market that will help you make the most of email marketing.

Mailchimp is a leader in the email marketing automation category. Amongst the top email automation tools, Mailchimp allows marketers to create and send drip emails based on customer behaviour on the website. This all-in-one solution provides third-party integrations and customer relationship management which can be used to create targeted campaigns and personalized emails and landing pages.

2.Marketo

Marketo is a behemoth in the automation industry, with a wide range of services. It is one of the most effective automation tools that marketers can use to streamline their email marketing efforts. This platform comes with email marketing automation capabilities that are functional and can assist in building brand value and driving revenue. The major advantage that Marketo provides marketers is the wide variety of behaviours based on which marketers can create trigger email campaigns.

3.HubSpot

In the same playing field as Marketo, HubSpot is another automation tool that is a powerhouse of performance and features. When it comes to the top email automation tools, HubSpot is a favourite amongst all marketers. HubSpot provides automated workflows which can be used to create personalized, relevant and timely email marketing campaigns. All marketers need to do is list the conditions and enrollment triggers and as soon as a lead encounters a trigger, a personalized email will be sent to them.

Oracle Eloqua is a dynamic marketing automation platform primarily aimed at big B2B organizations. One of its most popular and powerful features is its email marketing automation capabilities. Eloqua comes with advanced email marketing, lead generation and campaign management features that can be used to provide more connected and targeted email experiences to prospective customers. This email marketing tool can be integrated with sales automation platforms to create segmented lists and build personalized email campaigns from one place.

One of the most popular email automation tools, ActiveCampaign promises to convert leads into customers and customers into repeat customers. This tool allows marketers to create personalized drip email campaigns based on customer behaviour, location, customer interactions, interests and more. This easy-to-use tool comes with a visual automation builder, predictive content, A/B split testing inside automation sequences and many more innovative features.

6.Pardot

Salesforce Pardot is considered by many to be amongst the best marketing automation and CRM tools in the market. It offers enhanced email marketing automation capabilities, lead generation, lead scoring, automated customer interactions and more, all within a simple interface. Pardot comes with unique email marketing features that include A/B testing, segmentation and dynamic content generation, to help in building more targeted and effective email campaigns.

7. Act-On

When it comes to email automation tools, Act-On offers a comprehensive suite of automation and email marketing features that can be used for email management, lead management, social media management and more. Act-On's email marketing tool allows in-depth segmentation features via which marketers can use to segment target markets and design personalized email marketing campaigns. Advanced website tracking and analytical capabilities enable marketers to track customer behaviour and actions, which helps in building optimized and efficient campaigns.

8. GetResponse

With GetResponse, companies can design targeted email marketing automation campaigns, engaging content, boost sales, drive revenue, increase traffic and more. Priced competitively, GetResponse is the perfect email marketing solution for small and mid-sized companies. This tool offers various features like workflow automation, A/B testing, custom landing pages, design testing, video email marketing and more. They also offer an in-built CRM and webinar feature to help in providing maximum value to customers.

9.Drip

Drip is the world's first eCommerce CRM and amongst the most convenient email automation tools in the market. The basic purpose of Drip is to drive visual email marketing campaign building and streamline the drip email marketing process. This tool can help companies build their email list with the help of automated lead magnet delivery, engaging emails, custom opt-in pop-ins, automated workflows and in-depth personalization.

10.Mautic

Mautic boasts of having the world's only open marketing cloud and comes with several email marketing automation and marketing automation capabilities. It allows marketers to trigger actions, segment audiences, make changes to content and more. Some of the features offered by Mautic include A/B testing, analytics, ROI tracking, lead scoring and more.

Email marketing automation is the most effective way of driving conversions and improving email open rates. The above email automation tools are the most popular and our absolute favourites due to the extensive variety of features they offer. Read on to know 3 amazing email marketing automation campaigns that you can adopt to drive success!