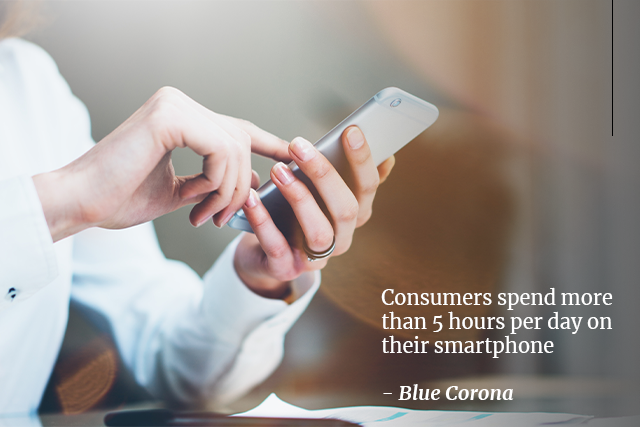 According to a survey conducted by Blue Corona, consumers spend more than 5 hours a day on their smartphone. In 2018, mobile ad spends worldwide amounted to $138.1 billion and is expected to reach $212.4 billion by 2021 (Statista). Thus, it is quite obvious that mobile marketing is the best way to elevate your marketing efforts, which in turn demands for mobile marketing automation.
What is mobile marketing automation? Marketing automation refers to software or platforms used to automate manual and repetitive processes in an organization, in order to boost all marketing processes and effectively market on multiple channels. Marketing automation activities are usually directed towards computers. Mobile marketing automation is simply marketing automation for mobile devices. Mobile marketing automation tools combine three important facets – personalized messaging, A/B testing and analytics. With these, mobile marketing automation is used to send highly targeted messages on users' mobile devices, check what is and isn't working and make the required changes in real-time.
Mobile marketing automation tools come with features unavailable in general marketing automation. With mobile marketing automation, you can interact with your customers on their mobile devices, with the help of push notifications, personalized SMS and MMS, in-app messaging and more. Sending highly targeted, relevant and personalized messages to their mobile devices can help you engage with your prospects at the right time. With features like geolocation, you can gather valuable data about your customers like their location, browsing habits etc. Unlike marketing automation, mobile marketing automation tools allow segmentation and personalization specifically designed for 1:1 communication.
The benefits of mobile marketing automation include:
1. Increase in revenue – Every organization, irrespective of size and industry, has one advantage, that is, achieving higher revenue and profit figures. Mobile marketing automation tools can help you streamline and target your marketing activities to be mobile-friendly. Consequently, there is a positive impact on your ROI and revenue figures. Mobile marketing automation can collect valuable customer data which can be used to design creative and customized mobile marketing campaigns. This assists in lead nurturing activities. Additionally, you can communicate with your customers in real-time, allowing you to understand and respond to their requirements quickly.
2. Customer Retention – According to studies, it is 5 times more expensive to acquire a new customer than to retain an existing one. Thus, apart from acquiring new customers, it is important for companies to retain their existing ones. In order to retain your customers, you must first understand their pain points, requirements and needs. Additionally, you must also track and check which marketing campaigns are working for which group of customers. This is where mobile marketing automation comes in. An important facet of mobile marketing automation is analytics. With mobile marketing automation tools, you can obtain relevant insights into your customers' behaviour, feedback about your offerings, their touchpoints etc. As a result, you can predict your prospects' future requirements and design campaigns to satisfy the same.
3. Segmentation & Personalization – Sending personalized content based on homogeneous segments is one of the most important and useful features of marketing automation. With mobile marketing automation, you can take this to another level. Mobile marketing automation tools have geolocation capabilities which helps in collecting valuable customer insights, like their location, browsing history, purchase behaviour, the device they use and much more. Based on such information, you can create targeted segments and design personalized marketing campaigns for these target groups.
4. Automate engagement campaigns – The level of engagement of different users is different. While some might make a purchase immediately after downloading your mobile app, others might take months before they purchase something. Instead of trying to manually engage with your leads, the best option is to automate engagement campaigns with the help of mobile marketing automation. To do this, you must first create segments based on user interests and actions. Once the segments have been created, use mobile marketing automation tools to develop drip nurturing campaigns to motivate prospects to take desired actions, like complete account setup, make a purchase etc.
5. Re-engage old customers – An extension of the previous point, mobile marketing automation can also be used to re-engage with inactive users. As mentioned previously, it is much cheaper to retain old customers than to acquire new ones. Thus, when existing users go inactive, it is essential to understand why they went inactive and nurture them back into becoming paying customers. Mobile marketing automation tools can create a segment of users who have gone inactive and then send them reminder messages with offers and discounts to motivate them to engage with you.
In today's mobile-friendly world, mobile marketing automation has an elevated value for marketers. Mobile marketing automation tools are the best way to market on mobile devices, thereby generating higher results and profits.