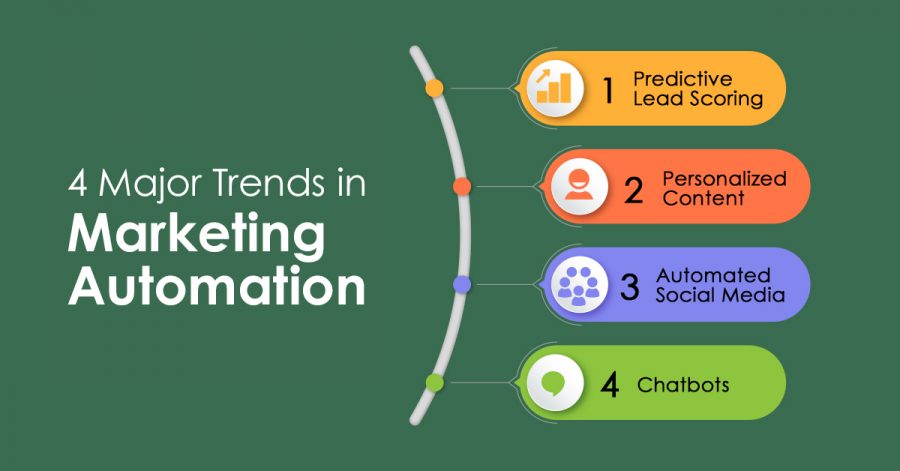 Expenditure on marketing automation tools is supposed to reach $25.1 billion dollars annually by 2023, according to Forrester "Marketing Automation Technology Forecast, 2017 to 2023 (Global)". With this rapid rise in marketing automation, marketers are increasingly experimenting with and adopting new tools which can help them boost profits in their business. Here are 4 major trends in marketing automation that every marketer should look out for:
1. Predictive Lead Scoring – Every lead available in your leads database will not be willing to convert into a paying customer. One of the most important tasks for your sales department should be to identify which leads will convert and which won't. With the advent of marketing automation, this task is easily done with the help of lead scoring. In recent times, predictive lead scoring is taking over the marketing automation industry. Predictive lead scoring refers to the use of algorithm to identify the activities and purchasing behaviour of customers, thereby predicting the chances of conversion. Predictive lead scoring is one of the major trends in marketing automation. Sales and marketing departments are increasingly using this tool to identify their hot leads, thus ensuring that they do not waste time and efforts on leads that will not convert. The best way in which you can save your time and boost sales is to make use of marketing automation tools which offer predictive lead scoring.
2. Personalized Content – A well-known fact in the world of online marketing is that "content is king". Customers are no longer satisfied with the generic content that is usually dished out to them by brands. The only way to spark their interest in your products and services is to provide them with content on a timely basis which is relevant and interesting to them. As a marketer, you must have the ability to relate to your customers, understanding their interests and pain points. Marketing automation tools help in analysing the characteristics and purchasing behaviour of customers. Once you have understood these, the next task is to offer personalized content, synced with their interests. Personalized content based on customer profile can help you engage with your customers on a deep, personal level. Personalized content is an extremely valuable trend in marketing automation, as an effective content marketing strategy can generate 3x more leads than paid search advertising. Content customized to your users' preferences and targeted on a timely basis can increase your client base, boost sales and ultimately improve ROI.
3. Automated Social Media Marketing – 97% of marketers are using social media to reach their audiences, according to Lyfe Marketing. With 3.03 billion people present on social media around the globe, it is quite obvious that the best way to reach your customers is to interact with them via social media, be it Facebook, Instagram, LinkedIn, Twitter, Pinterest or Snapchat. Marketing automation allows you to automate your interactions with customers on social media with the help of a variety of marketing automation tools. Smart automation on social media is gaining increasing popularity as it helps brands in engaging with the target audience on a timely basis, making it a major trend in marketing automation. Automated social media marketing coupled with relevant, timely messages can help you reach a large number of prospective customers, driving them to take desired actions.
4. Chatbots: A chatbot is a computer program that has been designed in a way such that it can simulate conversations with online users. Most brands use chatbots in their websites and social media pages to engage better with their prospective customers. These chatbots are equipped with some fixed answers to solve certain standard customer queries. However, customers are becoming increasingly sceptical of such chatbots, resulting in a requirement for personalized and more sophisticated chatbots. Marketing automation, along with artificial intelligence and machine learning, can help you in creating chatbots which can modify responses based on customer characteristics and behaviour. As a marketer, your objective should be to understand and satisfy the myriad demands of your prospective customers. You can achieve this by designing chatbots which can give personalized product recommendations based on the purchase history of your customers. Intelligent chatbots are a great way to boost customer engagement, thus making it one of the major trends in marketing automation. Marketing automation is here to stay. Understanding and incorporating these 4 major trends in marketing automation can help your business drive sales and boost profits within a short span of time and at minimal costs. Once you have implemented marketing automation in your business, it is important to track the performance of your automation tools. Read on to know about the top metrics to measure marketing automation success.