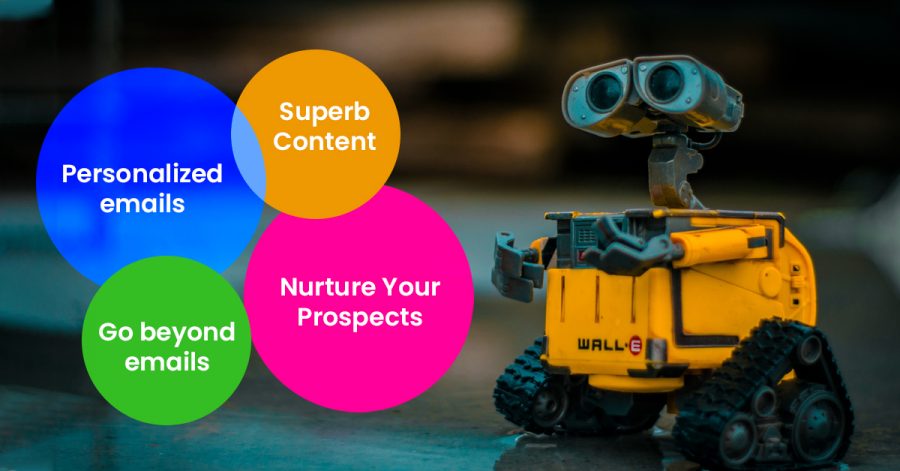 Dominic Cummins stated that "Businesses aren't B2B or B2C, they're Human to Human (H2H)" and nothing could be truer! Although marketing automation, artificial intelligence, machine learning etc are rapidly gaining popularity, customers still prefer talking to a human over a robot. When someone says the term "marketing automation", it evokes a sense of something robotic, automatic and emotionless. Here are 4 ways in which you can make your marketing automation strategy less robotic:
1.Superb Content – Companies communicate with prospects via their content. A successful marketing automation strategy uses superb content as a strong base on which all other marketing activities are built. To make marketing automation feel less robotic, the content should specifically answer any questions that your customers may have as well as fulfil their needs and demands. You can make your content more customized and relevant by using marketing automation to segment your prospective customers into homogeneous lists and send content based on these lists. Additionally, the content should be engaging, interesting and hard-hitting. Bland and boring content will make even interested parties run away from you! Informative content with interesting quotes, appealing graphics and a personal touch will effectively give a boost to your engagement rates by piquing your prospective customers' interests.
2.Personalized emails – According to a study conducted by Instapage, 82% of marketers have reported an increase in open rates through email personalization. The days of shooting out mass emails to any and everyone is long gone! The customers of today are only happy with relevant content. Email personalization is one of the major features of marketing automation. A proper marketing automation strategy uses buyer profiles to customize emails sent to them. Personalization helps customers feel that they are individually important for the brand, thus making marketing automation less robotic. Instead of just including the name of your customer to personalize your emails, you can use marketing automation to track the actions your customers are taking on your website and send them emails based on the same. For example, a customer who checked out a particular product on your website can be sent a mail offering a limited period discount on that product. This will not only delight your customers but also ensure that your marketing automation strategy seems less robotic.
3. Go beyond emails – While email marketing may be one of the most profitable marketing automation tactics, just marketing via email is simply not enough. Your audience is interacting with you on many platforms beyond emails. Additionally, while emails are generally a type of one-way communication, other platforms allow two-way communication. With 42% of the world population on social media, marketing and interacting with your prospects on social media platforms is sure to yield high results. By using social media channels like Twitter, Facebook and Instagram, you can directly chat with your customers, thereby adding a personal touch to your marketing automation strategy. By incorporating social media into your marketing automation strategy, you can understand the touchpoints of your target audience, provide interesting content and start engaging conversations.
4. Nurture Your Prospects – A major portion of your sales is received from existing customers. Once a customer completes a sale, you must continuously nurture him to ensure a good long-term relationship, thus boosting chances of future sales. Your marketing automation strategy should make good use of lead nurturing techniques to provide your prospects with the right content at the right time. Sending timely, relevant and audience-specific content will make your marketing automation seem less robotic and more personal, thus delighting your existing customers. For example, on special occasions like birthdays, you can use marketing automation to send a special, exclusive discount or offer. This will make your customers feel that you personally care about them beyond the sale. Beyond transforming your marketing automation strategy from a robotic procedure to a deep and personal relationship, lead nurturing will ensure that you are always in the minds of your long-term customers.
Marketing automation is a great tool that marketers can use to enhance their marketing efforts. However, to make the most of automation you must make it more human and relationship oriented. Design a marketing automation strategy using the above 4 tips and leverage your marketing efforts, generating higher revenues and profits.
Now that you know how to make marketing automation less robotic, here is our pick of the top 10 marketing automation platforms that will help you achieve all your strategic goals.