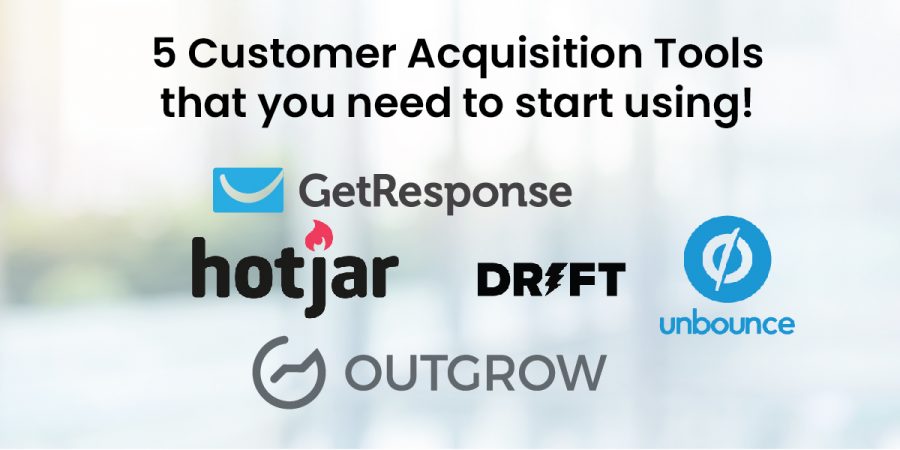 Your business is of no value without customers. The difference between a successful business and an unsuccessful one lies in the number and presence of customers. While retaining existing customers is important, acquiring new ones is equally crucial. If you are a marketer or a business owner, you would be knowing the importance of a holistic customer acquisition strategy. Acquiring new customers isn't a simple task. With multiple options and alternatives, getting your customers to convert is a long and painstaking process. To help you in this task, our experts have curated a list of customer acquisition tools that will bring you customers like bees to honey!
Unbounce
One of our favourite acquisition tools is Unbounce. Simply speaking, Unbounce is a landing page builder. We all know how important attractive and engaging landing pages are to get new leads. Unbounce makes it easier for you to design a landing page that boosts conversions. This Canadian company boasts a drag and drop builder which makes it super easy for even non-developers to develop a professional and click-worthy landing page. The best part of this tool is that it provides all the necessary features required to create a great landing page like A/B testing, form creation, SEO, analytics and more.
GetResponse
GetResponse is an email marketing tool that captures customer data with the help of a mailing list. While email marketing is the major forte of this product, it positions itself as an all-in-one marketing toolkit with capabilities like creating newsletters, automating emails and analysing campaigns. One of the most helpful features of this tool is its drag and drop editor which enables users to design interesting email templates, without the need for any intense coding. Customers of GetResponse can create emails, email campaigns, newsletters and more with targeted content, thereby attracting more leads. Some of the best features of this customer acquisition product include drip campaigns, A/B testing, dynamic content, autoresponders, subscriber management and more.
HotJar
HotJar is a revolutionary tool that is a must-have for your customer acquisition strategy. This tool uses interactive heatmaps to track customer actions like clicks and sessions. Understanding customer behaviour is key to optimizing marketing activities that prompt leads to convert. HotJar makes this entire process more convenient by providing a visual representation of important metrics. Apart from heatmaps, HotJar also allows users to analyse forms, conversion funnels, surveys and so much more. Some of the main features include custom survey URLs, question branching, data analysis tools and more.
Drift
Drift is a cloud-based solution that uses live-chat windows to facilitate improved interactions with customers on a real-time basis. Positioned as a conversational marketing and sales platform, this tool connects prospects with sales personnel in real-time, via interactive chatbots. The objective of this product is to accelerate the sales process, pushing more leads to the end of the sales pipeline, within a short time. Drift is amongst those efficient customer acquisition tools that include customers throughout the end-to-end buying process to provide a better experience. This is done by asking customers questions through chat windows, understanding their needs and connecting them with the right sales agents. Conversations are the basis of enhanced service for this SaaS company. Some of the major features of Drift include automated scheduling and calendar sync.
Outgrow
Outgrow is an innovative platform that allows users to build interactive calculators and quizzes. Interactive content is a new marketing strategy that brands are using to drive engagements. With Outgrow, users can design value-added calculators, quizzes and more that have the potential to go viral and generate leads. This customer acquisition product comes with embeddable design templates which can be used to build ROI calculators, knowledge tests and quizzes with no complex coding involved. Some of the main features of Outgrow are MCQ, feedback collection, skip logic, online polling and more.
For your customer acquisition strategy to work, several factors come into play like content, distribution channels, targeting and more. Customer acquisition tools can simplify the process by automating several activities like creating landing pages, email templates and tracking customer behaviour online. Our list of customer acquisition products can help you choose the platform that best suits your needs. By integrating these tools you can generate leads and drive conversions.