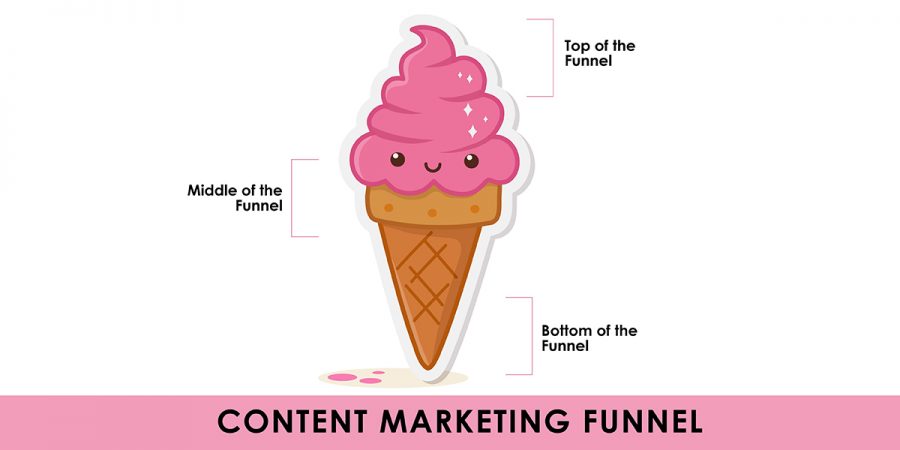 According to Lyfe Marketing, content marketing produces 3x the leads for 67% cost. Having an effective content marketing strategy can boost conversions by getting customers to come to you. While most companies are using content marketing to streamline their marketing efforts, very few are using it strategically and dynamically. The best way to strategize your content marketing efforts is to build a content marketing funnel. According to Single Grain, a content marketing funnel is a system that takes as many leads as possible through a step by step content flow and converts them into actual customers who pay for your products and services. The content marketing conversion funnel building process can be divided into 3 steps:
1.ToFu – Top of the Funnel
The ToFu stage is the first stage of the content marketing funnel. During this stage, the focus is on creating brand awareness and attracting traffic to your site. The ToFu stage can be pictured as the wide mouth of a funnel, through which a huge number of leads, who are interested in your offerings, will enter. At this stage, as a marketer, you must offer content which adds some value to the customer, instead of focusing on completing a sale. The ToFu stage does not only focus on brand awareness but also creates problem awareness. Many customers may not even be aware that a problem exists in their lives. Hence, by providing content that makes people aware of certain problems and how your offerings can solve those problems, you can attract customers and make them curious. Types of content that work well during this stage include blogs, landing pages, demo videos, infographics, newsletters and actionable guides. While creating content for the ToFu stage, you must keep in mind that the content is of value to customers by solving some issue as well as shareable. By sharing the ToFu content on your social media platforms, you can reach a wider customer base, thereby generating more leads. Additionally, by creating content around trending and popular topics, you make your content shareable and engaging for your prospective customers. For example, this landing page created by Litmus is great content for the ToFu stage as it is simple and captures emails, thereby generating leads.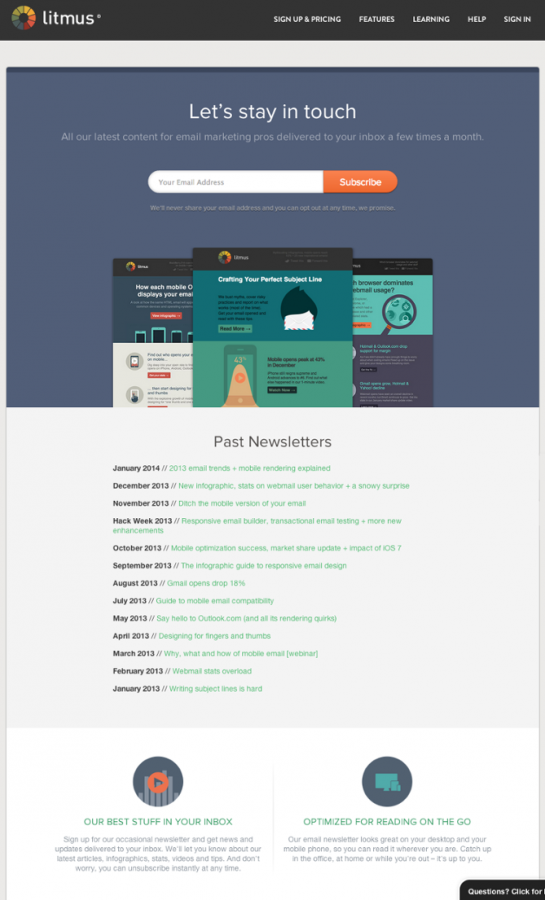 Credits: impactbnd.com
2.MoFu – Middle of the Funnel
The MoFu stage is the stage where prospective customers are educated about the offerings and enticed to convert. In other words, this is the stage when leads are converted into paying customers. During the ToFu stage, your prospects have already gained an idea about what you are offering and how it will benefit them. Now that your leads have passed over to the MoFu stage, they must be nurtured to build trust and a strong relationship, which will ultimately entice them to purchase your offering. This is a critical phase in the content marketing funnel as this is when you can boost your sales and conversion numbers. Usually, by the time your prospects reach this stage of the content marketing conversion funnel, they are comparing your offering with that of your competitors', to see which is the best fit for them. Hence, you must offer content that convinces them that purchasing your product/service is the best decision. Content like social media posts, blogs, whitepapers, case studies and webinars can be very helpful. During the MoFu stage of the content marketing funnel, it is mandatory that you measure the effectiveness of your content. Content that isn't performing well can make your leads turn cold. Using automation platforms like Marketo, Pardot etc can help you in evaluating the performance of your content in the MoFu phase. Make sure that the content you create is authentic, factual and influences prospects to take a positive decision.
3.BoFu – Bottom of the Funnel
The BoFu stage is the final step in the content marketing funnel. This is the phase when your prospects actually purchase your product or service and may even convert into long-term customers. The content in the BoFu stage of the content marketing conversion funnel needs to be highly personalized and relevant as this is the most difficult stage. During the BoFu stage, testimonials play a significant role in engaging prospects. Testimonials, both positive and negative can help in cementing the authenticity of your offerings as well as turn the tide in your favour. Additionally, content like ratings & reviews, questionnaires and self-assessments can also make the customers realize their need for your product and pique their interest enough to make a purchase. However, once a purchase is made the process does not end. The next step is to ensure customer delight, guaranteeing a long-term relationship with the customer. Studies show that while you have a 5% chance to sell to a new customer, there is a 60%-70% chance to sell to an existing customer. Long-term customer retention depends upon the "something extra" that you can offer to your customers. You can delight your customers via special offers, contests and giveaways. Additionally, content like surveys, blogs, whitepapers and eBooks can help in providing valuable information to your customers, motivating them to come back to you for future requirements.
Content forms the base on which all your marketing activities depend. An effective content marketing funnel can make your job easier by helping you create relevant content that will resonate with your prospects at whichever stage of the content marketing conversion funnel they are on.