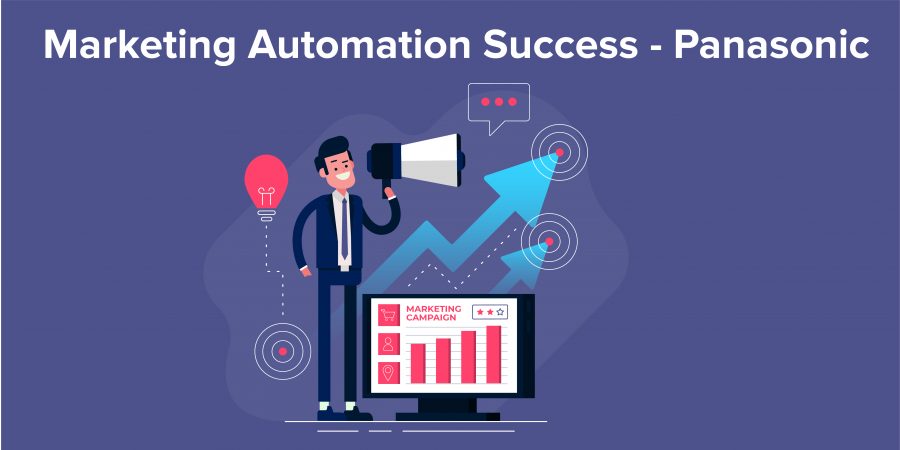 According to a Salesforce report, 67% of marketing leaders currently use a marketing automation platform. Marketing gurus have been quick in adopting this new marketing technology and implementing the same in their business processes. In our previous blogs, we spoke about how Barack Obama's re-election campaign and Paper Style, a wedding invitation company achieved massive success with marketing automation. In this blog, we will be discussing the positive results and success achieved by multinational electronics corporation, Panasonic.
The European arm of the global B2B division of Panasonic Corporation had a goal to streamline their sales departments and ensure better coordination between the sales and marketing departments. To achieve these goals, Panasonic implemented Marketo as its marketing automation platform of choice, after reviewing ten marketing automation vendors. Before incorporating a marketing automation platform, Panasonic's 13 B2B product divisions operated as distinct entities. Each of these divisions had their own sales teams, marketing teams and customer databases. There was no connection or coordination between these divisions.
In 2012, Panasonic Europe merged its various B2B divisions into PSCEU. The objective was to combine the separate sales teams, marketing teams and customer databases of the different divisions to make them more efficient as well as enable sales personnel to target larger accounts without hampering the existing run rate business in the channel. Panasonic also had a long-term goal to increase its market penetration and cross-sell opportunities.
To achieve these KPIs, Panasonic brought Marketo into the picture. While implementing a marketing automation platform, the objective was to use a simple tool that could be easily used by the marketing department, with minimum interference from the IT department. Marketo as a marketing automation platform was the obvious choice due to its simplicity and superior functionality. Marketo was integrated with the existing Salesforce CRM to import more than 55,000 contacts and train 50 staff. The entire implementation process took 1 year, and all marketers had access to the new marketing automation platform through three user categories – levels one, two and three.
Panasonic observed a huge difference in its numbers after the implementation of marketing automation. The sales pipeline from marketing campaigns, also known as "campaign contribution", displayed a growth of 26% from 10%. The number of marketing campaigns grew 100-fold per month, without any increase in marketing resources or budget. The contacts in Panasonic's CRM doubled from 55,000 to 1,10,000, all this in only 18 months. Marketing personnel could function without any assistance from the IT team and event attendance doubled.
The effective use of marketing automation assisted Panasonic to drive their growth and achieve the outlined milestones. Before implementing marketing automation, the various teams at Panasonic underwent compulsory training programs to avoid any kind of tech culture shock. In addition, care was also taken to ensure that the employees did not use Marketo as a simple email marketing tool but used all the features available to them. By following a chronological pattern while implementing marketing automation, Panasonic ensured that the entire process happened as smoothly as possible.