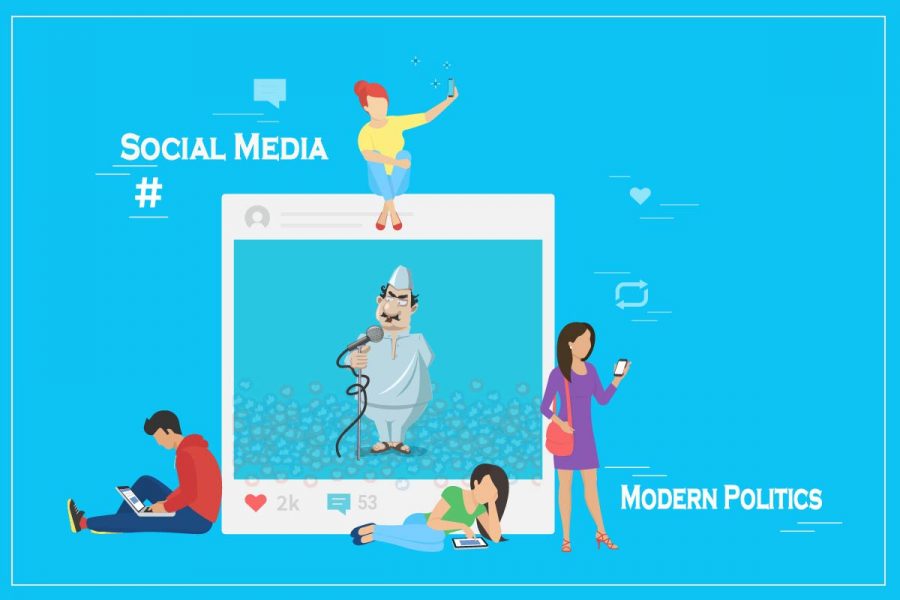 Social Media and Modern Politics: Together we Prevail, Divided we Perish
The political landscape across the world has changed quite a lot in the recent years. Modern politics is very much entangled with social media's presence as the Generation T are with cell phones. Every political party is up with their online persona and interacts with their followers through Facebook and Twitter. Apart from earning trust and moulding public's belief in their own favor, they get donations which further helps their offline campaigns.
Over the past decades, social media campaigns are a major source to spread the word and gather followers. With the major paradigm shift in the ways of communication, these parties can tailor their audience according to their needs.
Exit polls are an important aspect of predicting election results as they furnish the logistics of the presidential race and depict the voter's count for each presidential candidate. And Facebook, the social media giant, seems to be the conventional media among its competitors for generating poll analysis. If we take psychology into consideration here, I would like to say that some people like to engage with a leader if they have a larger number of followers. This is why polls are considered pompous and a quintessential gear for obtaining and acquiring people's attention.
Earlier, people had to wait for an entire day for newspapers to learn about the leaders, but this handy tech has modified participatory democracy as well as sped the developments in our society. Though social media has been argued as a tool for fake news, rumours and conspiracy theories, its perfect use is beyond any comparison.
Let's take a look at some instances:
Obama for America: As we are talking about politics and presidential campaigns, we can't forget the huge stir that happened during the 2009 USA elections. A powerful message, combined with modern marketing strategies not only gathered the rabble of followers but accounted for $500 million in donations from 3 million donors for Mr. Barack Obama. His most powerful digital tool wasn't just Facebook, Twitter, YouTube or Meetup, but the massive 13.5 million–name e-mail list.
This was indeed the most substantial and pompous electorate campaigns, the world had ever seen.
Prediction of election outcome of the USA and Russia's Intervention:Earlier in 2016, Facebook faced loads of criticism and endured social opprobrium when security agencies like CIA, FBI and National Security Agency claimed that Russia meddled with US presidential elections with Facebook campaigns in a hope to alter the aftermath of elections. According to January 2017 report by US agencies, it was said that Russia tried to damage Hillary Clinton's presidential campaign. "Putin and the Russian government developed a clear preference for President-elect Trump," a declassified version of the report said. Russia dismissed all these claims.According to a Russian Entity linked with Kremlin, fake stories, trolls and other kinds of the post were regulated through Facebook which had reportedly hired and reached over 140 million users. Facebook CEO, Mark Zuckerberg struggled with consecutive questions which were raised following the conclusion of 2016 elections and voters database revelations.

So in the world of mobile, tabs and laptops, social media appears to be the protagonist and also the de facto in charge of all the related events across the offline happenings.

Arab Springs: Back in 2010, when tensions were high between the Middle East and North Africa, social media acted as a catalyst and attracted youth's attention who shared live visuals of protests going in Tunisia. In order to get the support of the outer world, they shared, retweeted several posts that reached almost every corner and accounted for the much-needed support they were hoping for.

May 2014 Election:In 2009, only Mr. Shashi Tharoor had a Twitter account with 6K followers, but India saw a monumental increase of followers as well as political parties with an online persona. NaMo had now more followers than any other person on Twitter with 3.89 million minions followed by Shashi Tharoor with 2.16 million minions.
At Telloquent Solutions, we too worked for a client where we engaged well with our follower's list. We started our journey by creating an official page for Mr. Basavaraj Mattimabu on Facebook. We suggested all the ways to reach the targeted audience by both Organic and Paid ways. Our aim was to help him win the 2018 Karnataka Election by adopting an effective social media strategy. The page started getting likes slowly and eventually reached to 163K. We kept his page updated by posting about the local campaigns, events, social issues, etc.
What did we achieve?
We successfully reached the targeted audience and created awareness about him among the voters. As a result of both offline and online campaigns, we helped him reach his desired goal to become the M.L.A, Gulbarga Rural.
To conclude, I would like to say that though I'm not a very politically active person, I like to react with memes, trolls, and other online campaigns which I find worthy enough of my time. Clearly, these social media giants have changed the face of Modern Politics.