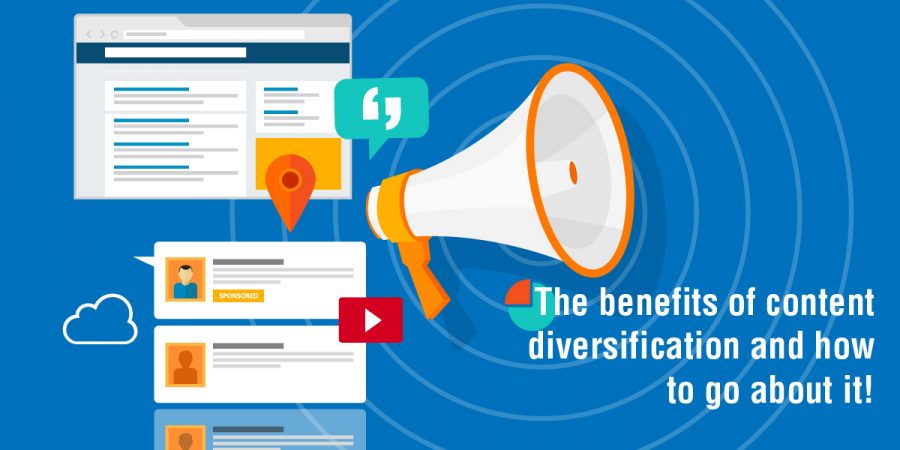 Marketing is a massive industry with endless channels and opportunities. Marketing professionals have multiple options via which they can reach their target audiences. However, very few marketers take full advantage of these opportunities. A common mistake that most marketing professionals make is in limiting themselves to a finite number of channels and options. They end up using only those mediums where they are completely sure about the results. Content diversification can help you reach and engage with markets which you previously did not even know existed. By diversifying your content, you provide a wide variety to customers, which keeps them interested in your offerings. Some of the benefits of content diversification include:
1. By diversifying your content, you can mitigate your risk by distributing your marketing activities across mediums. Trends keep changing. A channel which is in demand today may become obsolete tomorrow. By promoting your content on different channels, you can protect yourself.
2. Recycling your content is part of diversification. Content recycling is an easy and effective way of marketing to your customers. By using your existing content pieces and reusing them in other formats, you can reach more customers and keep your content evergreen.
3. One of the primary benefits of a content diversification strategy is that it allows you to reach new target markets. Different groups of customers require varied writing styles, content types and publishing mediums. By diversifying your content, you can find new markets and engage with them effectively.
There are several ways by which you can diversify your content for maximum results. Some of these are:
Transforming blogs into videos
Over the years, your website would be full of blogs on interesting and relevant topics. However, many people do not have the time to read long blogs. Video marketing has taken over the marketing industry. Videos have a high engagement factor. A good content diversification strategy would be to identify your high-performing blogs and converting them into videos. Change your textual content into images and pointers which will add some value to your customers.
Format
Content diversification can be as simple as changing the format of the content that you regularly post. If you have a particular pattern or type of content that you post on a daily basis, your customers might get bored after a certain period of time. Mixing up the format of your content will keep customers interested. There are several ways by which you can change the format of your content. For instance, instead of writing a blog, you can occasionally put the content of your prospective blog in the form of an infographic. This will help you provide relevant information in an engaging manner.
Original Data
Data is an important component of your content. Providing data from respectable sources helps customers trust your brand. You can, however, take this to another level with original data. Instead of researching online and citing data and statistics from other sources, conduct market surveys to arrive at your own insights. Such data will be completely new in your industry and help in providing immense value to your customers.
Social Media
The world of social media is infinite. Limiting oneself to particular social media channels is a folly that a seasoned marketer should never make. Understand your customers. See which social media channels they are most active on. Based on this, develop your content diversification strategy. There will be several social media platforms via which you can reach your target markets. Create your content to be personalized for all these channels to add maximum value.
Content diversification is key to achieving marketing success. Customers trust companies that can provide them with relevant information, via content marketing. By diversifying your content, you can not only provide important insights in multiple formats but also reach new markets.