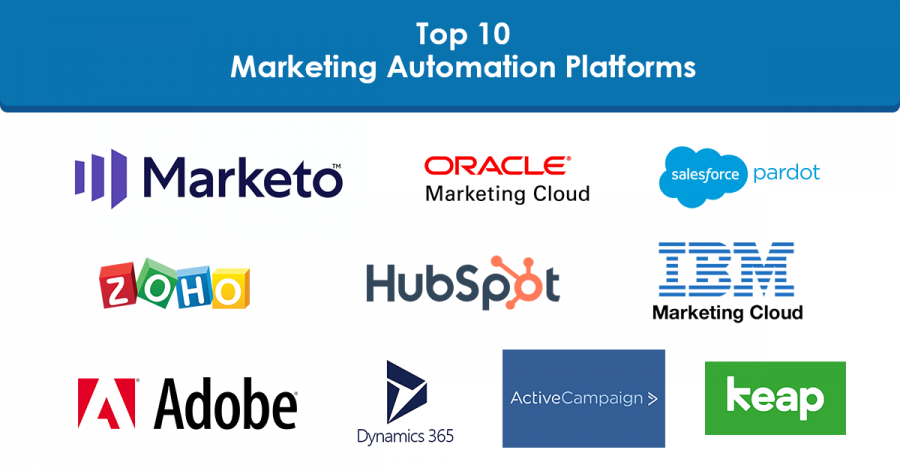 What is marketing automation? In simple words, marketing automation refers to tools and platforms that automate repetitive, manual tasks and streamline your omnichannel marketing activities, thereby saving you both time and money. As discussed in our previous blogs, marketing automation platforms come with several useful features like lead generation, lead nurturing, lead scoring, content personalization, email marketing campaigns and more.
According to a study conducted by Emailmonday, on average, 51% of companies are using marketing automation. With a wide variety of marketing automation platforms available in the market, selecting the perfect one for your company can get confusing. While comparing the available choices, these three points must be taken into consideration – ease of use, pricing and possibility of integration with existing software. Marketing automation platforms can be complicated, especially for first-time users. That doesn't mean you need to shy away from marketing automation! Choose a software that not only contains all the necessary features but also is user-friendly. Additionally, make sure that the marketing automation platform you shortlist does not cross your budget. Most marketing automation vendors include some hidden costs related to additional features. Make sure you have a clear understanding of these extra charges before making a decision. Finally, you must ensure that the marketing automation platform you finalize on can be easily integrated with any existing software in your organization. This guarantees a seamless transition and smooth functioning of your marketing processes.
Now that you know what marketing automation is and how to select a marketing automation tool, take a look at these top 10 marketing automation platforms that guarantee high returns:
1.Microsoft Dynamics 365 – Microsoft Dynamics 365 is a CRM solution that serves as a singular cloud-based platform which can be used in sales, marketing, service, finance, operations, talent, AI, business central and mixed reality. This modular marketing automation platform combines rebranded versions of Microsoft Dynamics AX and Microsoft Dynamics CRM to provide data-driven insights, creating intelligent workflows and automating repetitive tasks. Some of the features of Microsoft Dynamics 365 include relationship insights, outlook client, editable grids, relevance search, site map designer and much more.
2. Salesforce Pardot – Salesforce Pardot is a B2B marketing automation platform that serves as a single, centralized platform via which businesses can get valuable insights, generate promising leads, create customizable campaigns, track results and more. This marketing automation platform offers four main solutions – marketing automation, B2B marketing analytics, Salesforce engage and Einstein account-based marketing. It's email automation, content creation and marketing automation capabilities are best suited for small and mid-sized organizations. Some of the features include drip email campaigns, mailing list management, lead management, workflow automation, lead nurturing, lead scoring and more.
3. Marketo – Marketo is a user-friendly marketing automation platform that can be used by both B2B and B2C companies of all sizes. The solutions provided by Marketo include lead management, email marketing, consumer marketing, customer-base marketing, mobile marketing, revenue attribution and account-based marketing. The marketing automation services provided by Marketo are amongst the best in the industry and provides multiple features like landing pages, web-based email marketing, personalized customer engagement and more.
4. HubSpot – HubSpot is a popular and advanced marketing automation platform that focuses on lead generation and lead management. HubSpot serves as a one-stop-shop for all your marketing automation needs, including lead nurturing, email drip campaigns, creating personalized workflows, Salesforce integration and more. A unique blend of marketing automation and inbound marketing software, HubSpot marketing automation provides several tools which are not available together for any other marketing automation platform. HubSpot provides SEO, CMS, social media services amongst others.
5. IBM Marketing Cloud – Established in 1999 as Silverpop, IBM Marketing Cloud is the oldest marketing automation platform. This marketing automation platform is a software-defined storage in the cloud that is robust and easily applicable across different industries and verticals. The three key solutions of IBM Marketing Cloud are Marketing Center, Unica and Coremetics. Marketing Center includes features like A/B testing, website personalization etc. Unica is a multi-channel automation function with a focus on email marketing while Coremetics can help you with campaign results measurement, social analytics etc. The major features offered by IBM marketing automation platform are IBM Lead Management, IBM Digital Marketing, Journey Design and IBM Analytics.
6. Adobe – Adobe Marketing Cloud is an all-in-one, unified marketing automation platform which offers a complete set of solutions, including, Adobe Social, Adobe Campaign, Adobe Target, Adobe Experience Manager, Adobe Analytics and Adobe Media Optimizer. The products provided by Adobe Marketing Cloud are content management, campaign execution, personalization and Marketo engage. The features include automating marketing processes, multiple access to data, cross-channel marketing, programmatic marketing, geolocation, dynamic tag management and much more.
7. Oracle Eloqua Marketing Cloud – Oracle Eloqua is a marketing automation platform targeted for B2B audiences. This platform provides an amalgamation of email marketing, demand generation and lead management. The main distinguishing factor of this marketing automation platform is that it offers only a handful of solutions which are extremely effective in fulfilling all your marketing automation needs. The product capabilities include targeting and segmentation, campaign management, lead management, marketing measurement and sales and marketing alignment.
8. ActiveCampaign – ActiveCampaign serves as an integrated CRM and marketing suite which offers revolutionary automations, including autoresponders, contact list automation, list management and automations within its CRM system. This marketing automation platform offers 5 main features – email marketing, marketing automation, sales & CRM, messaging and machine learning. Considered as one of the most powerful marketing automation platforms in the market, ActiveCampaign provides segmentation, geo-tagging, deliverability tests, A/B testing, ROI tracking and more.
9. Zoho – Zoho is a cloud-based multi-channel CRM software targeted towards small and mid-sized businesses to provide a wide range of solutions. The services offered by this marketing automation platform can be applied in sales & marketing, finance, email & collaboration, IT & help desk and human resources. They also offer custom solutions that are personalized according to individual business needs and requirements. Zoho provides useful features like gamification, business-grade telephony, comprehensive reporting etc which can take your marketing automation activities to the next level!
10. Keap – Keap, formerly known as Infusionsoft, is an all-in-one CRM, marketing and sales automation platform that is specifically targeted to small-sized businesses. The main advantage that this marketing automation platform has over its competitors is that it doubles as a digital marketing hub and an email marketing tool. The features offered by Keap include multimedia marketing management, social sharing, scoring tools, automated campaigns and more.
In today's competitive environment, a company cannot survive without some form of marketing automation. Although these are the top 10 marketing automation platforms in the market, the ultimate choice depends upon you and your strategic goals. Now that you know the top players in the marketing world, read on to know 5 steps in selecting a B2B marketing automation platform.